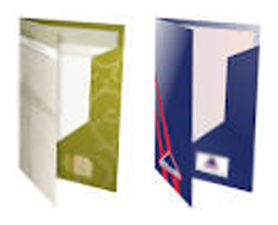 Presentation Folder Printing
To give your Company a more professional appearance and to stand out from your competitors Presentation Folders improve the look of any proposals you may be presenting to your clients. One colour through to full colour, single or double sided depending on your budget
Whether you use them for conference handouts, product literature, or business proposals, , presentation folders will serve to promote and enhance the professional image of your company. Using custom printed presentation folders to package your brochures, booklets and other business information is a great way to make your information kit look professional.
Presentation folders are not only practical—they are stylish and elegant tools to help organize proposals, product literature or handouts. They are a must-have for conferences, meetings, exhibitions or networking events.
Our unique designs and quality production will ensure that your presentation folders impress your new and existing clientele.